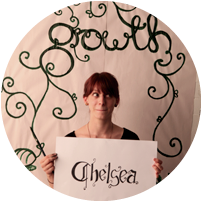 WELCOME
Hello! I'm Chelsea. I love tea, cake, cookies, and chocolate (but not necessarily all at once). I enjoy being creative through writing, designing, and arts and craft such as knitting and crotchet. I am also very interested in web technologies and would love to learn more coding languages and front-end web development.
EDUCATION
INDUSTRY EMPLOYMENT
10 months with 
Studio None
, as a graphic designer
1.5 years with
AMMA
, as a marketing assistant, involving graphic design and front-end web development
1 year 4 months with
Zeumic, My I.T. Partner
, as a junior website designer/developer, admin & advertising assistant
OTHER EXPERIENCE
Part of the team that organised and managed the
Hindsight
 event.
Freelance design work for small business clients and a local Brisbane band.
Freelance work with Design College Australia to create multiple websites.
SKILLS
Adobe CS6 Photoshop, InDesign, Illustrator, Dreamweaver, EdgeAnimate
HTML, CSS, basic JavaScript and PHP understanding, WordPress, Joomla!, FileZilla, WordPress
Basic CPC campaign management with Google Adwords and Yahoo! Search Marketing
Design: branding, logos, corporate identities, websites, packaging, stationery, brochures
Typography, typesetting, copy writing, copy editing, layout, custom lettering
Google Apps (Gmail, Calendar, Drive/Docs, Plus+)
Microsoft Office (Word, Excel, Powerpoint)
Windows XP, Vista and 7; Mac OSX